"The usually stately
Playboy
Mansion was mutated into a macabre lightning-lit, fog-drenched house of horrors for Hef's all-out annual Halloween party. With gargoyles looming overhead, stars like Leonardo DiCaprio, Owen Wilson, Yankee Gary Sheffield, Paris and Nicky Hilton, Garry Shandling and Desperate Housewives' Shawn Pyfrom arrived in the driveway graveyard and made their way through the haunted mansion."
Horny Devil Hef makes a grand entrance with girlfriends Holly as Tinkerbell, Bridget as Medusa and Kendra as a super-fly pimpette.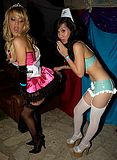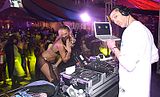 "At the witching hour, rappers Too Short and Lil Jon amped up the party with a crazy set. The show drowned out the screams from a 16-room haunted house, where partygoers worked their way through body bags to escape demonic clowns and chainsaw-wielding killers. If the monsters didn't raise your heart rate, the scantily clad Playmates and painted ladies did the trick. Either way you sliced it, Hef's annual party got the blood pumping. "