The National Enquirer reports that Angelina Jolie is about to learn of Brad Pitt's deepest, darkest secret -- his past with "Olivia", a curvy, blue-eyed call girl.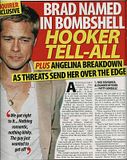 Did this happen when he was with Jennifer?
Whatever,I'm calling it bullshit, the hooker just probably wanted money for the story!
Brad Pitt is not the type that needs a hooker to get laid!