Justin Timberlake was voted as one of the 'Men of the Year' by British GQ Magazine.
Man is he sexy! Well for all you Justin lovers here you go:
Justin on "settling down" with Cameron Diaz: "Men are monkeys, man. Listen, as for marriage and so on.... I have my two dogs for kids so you should ask them how I'm doing." [Justin realizes Cameron is close by] "Never say never, but why ruin a good thing?"
Justin on his career: "This is me right now at my creative best. The first record may have been made with more from here" - he points to his heart - "but this record has been made more from here" - he points to his temple. "I don't want people to think I'm some sort of self-obsessed sex machine.
(More of JT Pictures and Article)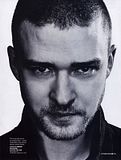 (source)