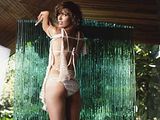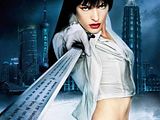 The model/actress says she is ready for a baby, but admits the body image of the fashion industry has affected her fertility. Milla Jovovich may be known for her roles in action films: Joan of Arc, Fifth Element, Resident Evil, and Ultraviolet.
The super-slim L'Oreal spokes model, who is dating British director Paul WS Anderson, says they are ready to start a family but the fashion industry is unhealthy for a child.
'I'd love to have a baby. I think the only reason I haven't conceived is because of my active lifestyle,' she told Grazia magazine.
'My body won't allow itself to get pregnant now because it knows it wouldn't be in a healthy environment.
'I need to take a year off, sit down, watch some movies and eat some yummy food,' the 30-year-old said. 'And then, boom! It will happen. Give me a few months off at home, let me relax and suddenly I'm healthier and I gain ten pounds.'
Milla has been unsucessfully trying to conceive a baby with Anderson.