Nicole visited her husband of four months, Keith Urban and took took a stroll outside of the Betty Ford Center in Palm Springs over the weekend. He has been an in-patient rehabilitation program for alcohol abuse .
Ream More After The Jump



"

The following day Urban won the best male vocalist trophy at the Country Music Association Awards. When Urban's name was announced, he received a standing ovation, and pal Ronnie Dunn (of the band Brooks & Dunn) read a letter from Urban in which he thanked his friends and family. "I'm pained not being there with y'all tonight," the letter read. "To my wife, Nicole, I love you." Urban, 39, is expected to be in rehab for 35 to 40 days

.

"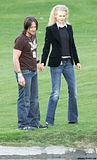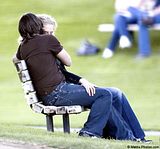 (USWeekly)