Justin Timberlake has started speaking out about the break-up of his romance with Cameron Diaz - but he isn't saying very much.

During the first concert of his 36-date FutureSex/LoveShow tour on Monday, the singer revealed, "Sometimes love isn't so easy," and now he reveals his hectic work schedule is helping him nurse the pain.

Speaking by phone on radio presenter Ryan Seacrest's Kiis-Fm show in Los Angeles yesterday morning, Timberlake revealed, "I'm on tour and its awesome."

When asked if being distracted by work was helpful, the singer responded, "Yeah, it's great."

The couple confirmed they had split up after almost four years together earlier this week.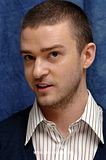 Make Money by Searching the Internet!
BE A PART OF THE NEXT GOOGLE!
(NO SPAM, I PROMISE THIS WORKS
YOU DON'T LOSE ANYTHING BUT GAIN MONEY)