I didn't recognize Lindsay Lohan through these pictures, did you? Her face look like Angelina Jolie half/ Madonna. Anyways, i'm glad that she finally landed a gig since Marc Jacobs and Chanel didn't want anything to do with her. As for the pictures, I'm not feeling it.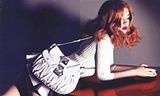 Make Money by Searching the Internet!
BE A PART OF THE NEXT GOOGLE!
(NO SPAM, I PROMISE THIS WORKS
YOU DON'T LOSE ANYTHING BUT GAIN MONEY)