Hollywood actress
Scarlett Johansson
was so desperate to get her hair colour just right, she once took a clipping of her father's
blond locks
to the
hairdressers
to match it.

The Lost In Translation star - who was named the Most Beautiful Celebrity Of All Time by an anti-ageing website in December (06) - is famed for her golden mane, but the colouring process hasn't always been so easy.

She says, "My natural hair colour is dirty blonde. I've been a bottle blonde before, very yellow - and a white blonde.

"My dad is Danish and he's a natural blonde. I've even taken a clipping from his hair to the salon so I can have it tinted the same colour!"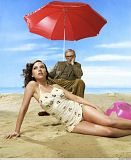 OWN THE INTERNET &
MAKE MONEY NOW!
BE A PART OF THE NEXT

GOOGLE

!
(NO SPAM, I PROMISE
THIS WORKS)