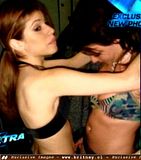 Britney works the dance floor as she parties with half naked ladies at club Tenjune in New York City.

But she was complaining that she didn't like it and wanted to change," a source tells PEOPLE.

Lucky for her, Sunday nights at ONE feature go-go dancers clad in fishnets and bikinis. "So she called the dancers over to talk to them, she said, because she really liked those fishnet stockings," the source says.

The flattered dancers brought Spears downstairs to their dressing room to try on some of their outfits.

A few minutes later, "Britney came upstairs in a dancer bikini and a white busboy jacket. And that's what she walked out wearing."

Although Spears sipped champagne at the club, her evening was relatively mellow, says the source. "She just hung out with these two dancers all night and kind of befriended them. She was trying on all their outfits and left in a bikini and fishnets. That's it."