Drew Barrymore visit MTV's TRL to Promote
Music and Lyrics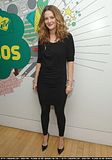 Drew Barrymore claims her words got "twisted" in a recent interview when she suggested she's had enough of the lightweight comedies she's famous for.

But now she insists "I will never deny a genre that I absolutely love."

And she reveals she's already working on her next project with funnyman Sandler.

She says, "You say one thing and it sort of gets twisted into a million different directions.

"I love doing them (romantic comedies) and, in fact, Adam and I just read a script recently that we're thinking about.

"We waited a few years between The Wedding Singer and 50 First Dates, as we probably will again... I will absolutely do more."