"
Ghost Rider
"
New York City Premiere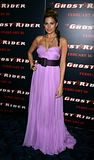 The
Cuban
-American actress - who stars in new comic book movie
'Ghost Rider'
, which focuses on a motorcycle stuntman, Johnny Blaze, who sells his soul to the devil - is
fascinated by graveyards
because they are "beautiful".

Eva Mendes, 32, said: "I'm somewhat obsessed with cemeteries. There's just something so beautiful about them."

The beautiful star - who has also starred in 'Hitch' and 'Urban Legends: Final Cut' - also confessed she believes in the afterlife.

She said: "I saw my uncle's corpse at his funeral recently. It was very surreal and had a very strange effect on me. I touched it, and he was so cold.

"His soul was clearly gone. Seeing the dead body gave me faith that our energy moves on somewhere else."

When Eva dies she wants to be cremated and have her ashes scattered in the ocean.

She explained: "I don't know that I've found my special place yet, but if I were to die today, I'd say probably scattered off the shore of Cuba. I think that would be nice."