22nd Annual Santa Barbara International Film Festival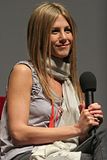 Jennifer Aniston is reportedly dating a cameraman she met on the set of her Friends co-star Courteney Cox's TV show Dirt. Good for Jen, I hope she finds someone good for her.

Aniston, who split from boyfriend Vince Vaughn in December (2006), met the mystery man, known only as Mike, when she was filming a guest appearance on the programme.

An insider tells British newspaper the Daily Express, "She introduced herself and they started chatting.

"The next day he asked Jen out for dinner. They've been out several times since then, including once to a bowling alley and a dinner date at Marix, one of her favourite LA restaurants.

"She really likes him."