Picture of Jessica Simpson
at LAX Airpot
(01.04.07)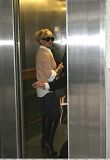 Pop star Jessica Simpson immediately softened her new darker make-up and red hair after reports surfaced she had undergone plastic surgery.

Three days after she debuted her new edgy look, the 26-year-old quickly made adjustments after a barrage of criticism.

Simpson's representative denies she's had plastic surgery and slams reports she softened her look after the backlash.

Her publicist tells American publication Us Weekly, "No, it had nothing to do with that."

A source close to Simpson adds, "She likes to camp it up sometimes. She thought it would be fun to have a change.

"She knows when she goes too far, but that doesn't stop her from trying new things."

Simpson was spotted in West Hollywood on February 7, 2007, with soft brunette curls and more subtle make-up.