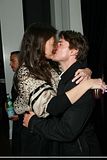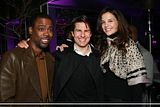 Katie Holmes
became
stepmother
to
Nicole's adopted children
, Isabella and Conor, when she married Nicole's ex-husband
Tom Cruise
, and both actresses worker together on how to handle their kids.

A source said: "Katie was having lunch with friends in Beverly Hills when Isabella rang her to talk to her about a party she was going to.

"Katie said, 'That was Bella. She wants to wear a dress to a birthday party but I think it is much too grown up for her. But she says her mother approves. So I need to check with Nicole.'

"Then after she'd made the call to Nicole she told her friends, 'Nicole agrees with me. The dress is all wrong. The drama of it all! If I've learned one thing about teenagers, it's that little things mean a lot.' "

(
source
)