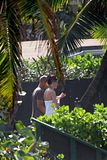 World champion surfer Kelly Slater squashed reports that he's romancing Cameron Diaz by showing off his new love, a Brazilian model, at a golf and fashion party at the weekend.

Slater was romantically linked to Diaz after the actress jetted off to spend quality time with her surfing pal at his home in Hawaii after splitting up with Justin Timberlake.

Despite denials from all camps, including Slater's mother, the tabloids liked the idea of the couple being an item, but now Slater has found a way to end the gossip - by showing off his new girlfriend.

The surfer showed up at a Dockers Final Round party at Pebble Beach, California on Saturday with his yet-to-be-identified model love.

A party guest tells Wenn, "They were definitely a couple at the event. Kelly wouldn't identify his new girl, but we all knew she was extremely special to him.

"Cameron quickly became a thing of the past."