February 9, 2007
Nicole and Joel visit TRL in Times SQ, NYC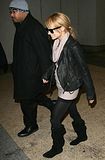 What is she stupid? Even a blind man can point out that
she's guilty
. I bet you, the judge will decide on her favor. Geez, life is so good if you're a celebrity.
Nicole Richie has pleaded not guilty
to driving under the influence
.

Richie was arrested on December 11 on suspicion of driving under the influence, when she was stopped for going the wrong way on the 134 Freeway in Burbank.

As Nicole was not present in court today, her attorney entered her plea. A pretrial hearing has been set for April 2.