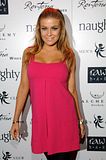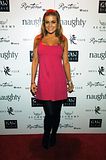 The former 'Baywatch' star Carmen Electra - who plays a porn actress in new British film 'I Want Candy' - credits her incredible body to yoga, sex and stripteases.

Carmen said in an interview with Britain's FHM magazine: "I do a lot of yoga and aerobics. Plus, you can burn a lot of calories in the bedroom too. I get a lot of guys coming up to me who have bought my striptease DVD and they thank me because their girls have learnt hot to give them amazing lapdances."

But despite her slim figure the model-and-actress still gorges on calorific treats.

Carmen said: "I eat a lot of junk - while I was in the UK I ate so many Flake chocolate bars!

"I once had a job dressed as a clown and I had to pop corn in a shoe store.

"The problem was I ate so much popcorn I got sick. I got paid $4 an hour but was probably eating more than that in popcorn."