Victoria's Secret PINK
"Rally at the Raleigh"
Spring Break
Event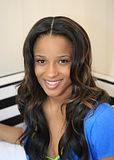 R&B sensation Ciara has given herself four years to become an international superstar before she takes a break to be a mom.

The ambitious 21 year old is currently single after a failed romance with rapper Bow Wow, but she has still got her sights on becoming a young mom at 25.

She says, "I'm looking forward to that day when Prince Charming is in my life. I know it sounds cheesy. But one of my goals is to have a solid family and have kids."

"I want to have my first child by 25. That's not too young, is it? I want five kids, and there's no way I can have five kids and start too late."

Meanwhile, the sexy Goodies singer is playing down reports she's dating 50 Cent after recording new track Can't Leave 'em Alone with the In Da Club hitmaker.

She recently told Mtv News, "I'm single and at this point, I'm learning more about myself. I have moments when I'm like, `It would be great to have somebody there.' Then I have moments when I say, `I'm 21 and I'm single and I have to enjoy myself.'"