The
Los Angeles Premiere
of Touchstone Pictures' "
Wild Hogs
"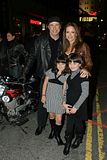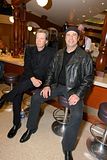 John Travolta
donated
$15,000
(£7,700) to
victims of a tornado
in
Florida
at the premiere of his new biker film
Wild Hogs
on Friday night (02MAR07).

The actor presented a personal cheque to Mayor Max Pullen of Lady Lake, Florida, where a string of tornadoes killed 21 people in the area on 2 February (07).

Travolta, who has lived in nearby Ocala for four years, said, "These things happen in Florida and when they happen we all have to do something to help.

"I just felt the time was right. We're promoting a movie. I think the best movie openings and promotions are when you can do it for charity and help people. I live here. These are my people."

Pullen added, "This means a lot and helps lift the spirit of our people. When they know somebody as big a star as John Travolta cares about them, it makes a difference."