Lindsay Lohan
behind the wheel of her BMW after leaving club Butter in New York City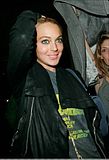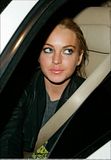 Lindsay Lohan's father Michael was set to be released from a New York state prison today after more than two years behind bars.

Michael was sentenced to serve time after surviving a fiery car crash on Long Island, where he was charged with driving under the influence.

The former stockbroker, producer and actor has reportedly changed his ways and is now an ordained minister who wants to "make amends for his past mistakes".

Before his prison stint, he was in the process of filming a reality TV series called Hollywood Dad and plans to resume shooting the show.

The show's producer Brett Hudson explains, "Michael Lohan is a changed man. I've spoken to him often and I know it.

"The last time around, Michael would never admit he'd done anything wrong. Now, he not only admits his past mistakes, but he wants to right the wrongs he's done.

"And most of all he wants to get his family on track."

Lindsay, who recently completed a stint in rehabilitation facility, is said to be considering reconciling with her father after he wrote her a heartfelt letter from jail asking for forgiveness earlier this year.