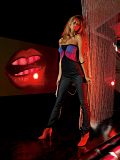 Gisele Bundchen's representatives are keeping quiet about reports the supermodel is pregnant with new boyfriend Tom Brady's baby.

The Victoria's Secret stunner is reportedly two months pregnant with the American football star's child, but her publicists are simply refusing to acknowledge the story.

One rep says, "We do not comment on our client's personal life."

Meanwhile, representatives for New England Patriots star Brady are refusing to say anything at all. If the rumours are true, Brady is set to become a first-time father of two - his ex-girlfriend, actress Bridget Moynahan, is also expecting his baby.

Bundchen showed how serious she is about her new beau recently when she took the sports star home to meet her parents in Porto Alegre, Brazil.

The only other guy she took home to meet the parents was her former longtime boyfriend Leonardo Dicaprio.