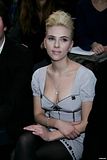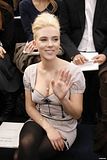 Scarlett Johansson has reportedly taken a swipe at rival Lindsay Lohan over her unprofessional behavior on film sets. Both actresses have dated actor/singer Jared Leto and tabloid reports claim there is tension between the two stars.

Lohan was publicly reprimanded by studio bosses last year for her unprofessional behaviour on the set of Georgia Rule and Johansson takes what appears to be a shot a Lohan in an interview with American publication Parade.

She explains, "I'm very responsible when I'm working. I've just been doing it for a long time and I'm not the kind of person who is going to show up to work three hours late, or maybe not come at all.

"That's just not who I am. That just has to do with the fact that I understand that everybody else comes to work and we would all like to get an extra four hours of sleep, but what can you do?"
Even though this is what tabloids are reporting, I think this is complete B.S. I highly doubt the Sexiest Woman in The World would start a cat fight just for a man and it's Jared Leto, give me a break!